Use of Olive Leaf Extract in Edible Films and Coatings in Foods
Keywords:
Zeytin yaprağı ekstraktı, Yenilebilir film, Yenilebilir kaplama, Gıda
Abstract
Edible films and coatings are used to protect and improve the quality of food and extend its shelf life. One of the most important features of edible films and coatings is their biodegradability. Environmentally friendly, safe, non-toxic biopolymer-based active films are being developed and applied in the food industry. Edible coating is the thin edible layer created as a coating on food. Edible film is a thin layer made and shaped from edible film. Olive leaf is a natural material with high nutritional value and many biological activities. It is an easily accessible and natural source of phenolic compounds. Olive leaf has antioxidant, antimicrobial, anti-inflammatory, hypoglycemic, antiviral, anticarcinogenic and antiatherosclerotic functional properties. Thanks to its functional properties and composition, it has widespread use in foods. The inclusion of olive leaf extract in numerous foods increases the biological activity of the diet. As a result of the developing food industry and technology and scientific research, it appears that olive tree by-products have the potential to be used in human nutrition by adding them to food formulations in various areas of the food industry in different forms. Usage areas of olive leaf in food: to enrich it with antioxidant and bioactive compounds, to extend shelf life by increasing oxidation stability and to produce new functional products. Olive leaf has a significant potential in achieving specified goals and technological properties, and its use in food formulations is widespread. Among these areas of use, edible films and coatings are widely used. Examples of foods for which film and coating are applied are milk, tomato paste, lamb meat, apples and cherries. As a result of the applications carried out; The original quality of the tomato paste is preserved very well, the antimicrobial effect in the meat is observed, the number of psychrophile bacteria is 5 times lower, there is an increase in the ripening process and anthocyanins in the cherry, and the shelf life of the products has increased. Olive leaves represent an inexpensive and useful source for the recovery of bioactive compounds with high potential in innovative functional foods. It is an option with high working potential, suitable for use in different foods with the selection of appropriate extraction technology. It has potential especially in edible film and coating applications.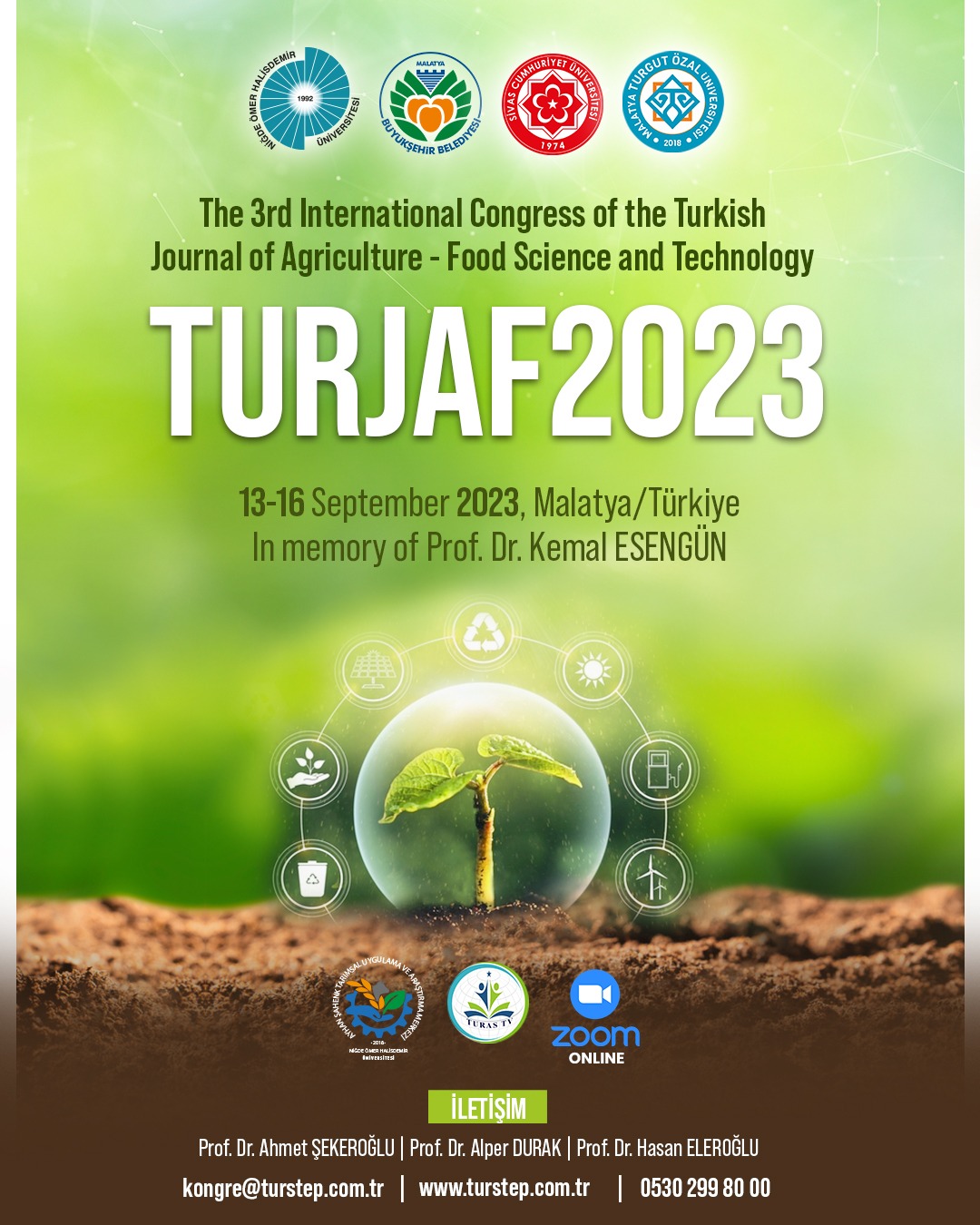 Downloads
How to Cite
Murdan, Şeyma. (2023). Use of Olive Leaf Extract in Edible Films and Coatings in Foods. 3rd International Congress of the Turkish Journal of Agriculture - Food Science and Technology, Malatya, Türkiye, 298–298. from http://turjaf.com/index.php/TURSTEP/article/view/170
Section
Presentations Online