Effectiveness of Phosphorus acid, Bacillus subtilis and Commonly Used Copper Compounds in the Control of Fire Blight on Apple cv. Gala with M9 Rootstock
Keywords:
fire blight, control, copper, plant defence
Abstract
Necrogenic Gram-negative bacterium Erwinia amylovora, which causes economic losses especially in pome fruits such as apple, pear, quince and loquat, some berries and many ornamental plants, causes fire blight disease. Copper compounds are used extensively in disease control programs and they can cause toxic problems in terms of plant and environmental health. In addition, the formation of resistance to copper in the pathogen is frequently observed. In this study, plant activator Phosphorus acid and biological control agent Bacillus subtilis, and 3 different copper compounds, Copper sulfate, Copper oxychloride and Copper hydroxide which are commonly used against E. amylovora, on apple cv. Gala with M9 rootstock were evaluated comparatively. When the new season shoot lengths of 3-year-old plants with homogeneous growth reached 20-25 cm, chemicals and B. subtilis were applied first time before one week ago from the pathogen inoculation, and after 2 times with 1 week intervals. The youngest two leaves at tips of actively growing terminal plant shoots were inoculated by cutting off using scissors dipped in suspension of E. amylovora str. EaARADY5 containing 108 CFU ml-1. Disease assessments were made after the disease severity (%) was determined on the basis of shoot blight after symptom development of the disease stopped, and the results were found to be statistically significant (p<0.05). According to the findings, while the highest effect was obtained by copper oxychloride with 69% effectiveness among all applications, the lowest effectiveness was obtained with 43.5% copper sulfate. It has been revealed that the use of the most effective of the copper compounds in field applications will result in less exposure to chemicals in terms of human and environmental health, and that B. subtilis and phosphorous acid can be used significantly in the integrated control of fire blight.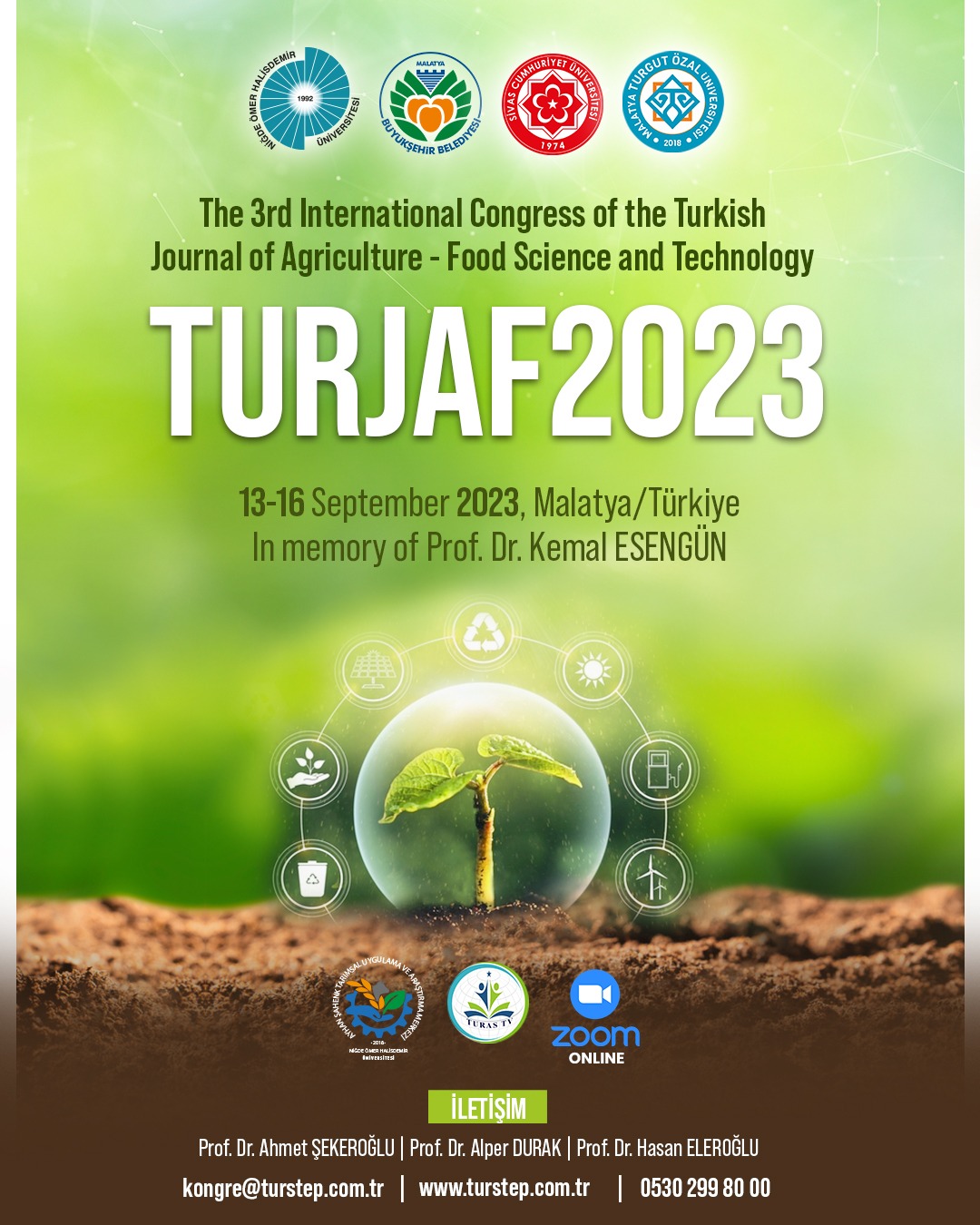 Downloads
How to Cite
Gür, A., & Bastas, K. K. (2023). Effectiveness of Phosphorus acid, Bacillus subtilis and Commonly Used Copper Compounds in the Control of Fire Blight on Apple cv. Gala with M9 Rootstock. 3rd International Congress of the Turkish Journal of Agriculture - Food Science and Technology, Malatya, Türkiye, 308–308. from http://turjaf.com/index.php/TURSTEP/article/view/178
Section
Presentations Online